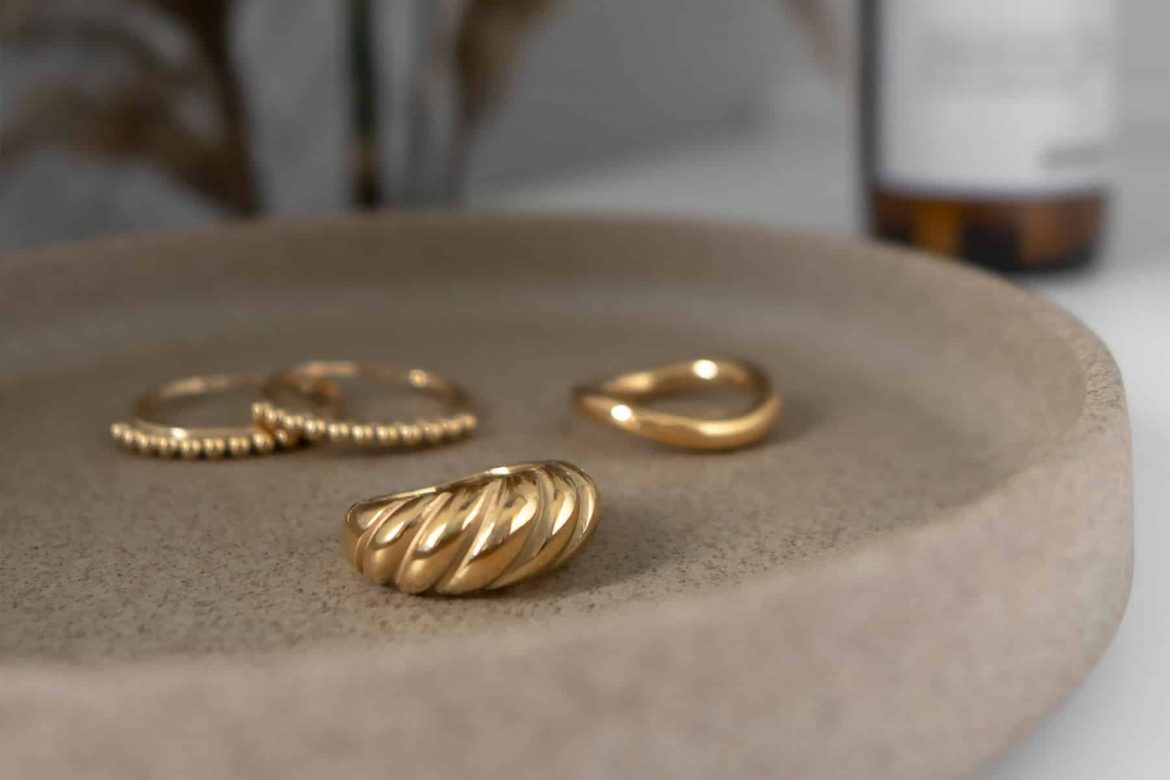 Welcome to the Nordic Muse Jewellery Material and Care Guide. We have put together some information about what our collections are made of and how to take care of your pieces to get the most out of them.
Base Materials
Sterling Silver
Sterling silver is made of 92.5% pure silver mixed with 7.5% other metals – usually copper or zinc. The reason why pure silver is mixed with other metals is that it is soft in its own. Copper and zinc make it more durable and hardwearing. To identify the percentage of pure silver, a tiny 925 is stamped on the jewellery as a quality mark. This is why Sterling Silver is also known as 925 Silver. When silver is coated with a thick gold plating it is called gold vermeil. We choose gold vermeil for example for our Zodiac Necklaces, because it has a bright and shiny finish that's ideal for delicate designs. Sterling silver and gold vermeil is also used in our Silver Selection, which consists of fine earrings and adjustable rings.
Stainless Steel
Stainless steel jewellery is strong, durable and rust-resistant, allowing it to withstand the wear and tear of everyday activities. The hard metal resists scratches and corrosion. Thanks to its hypoallergenic properties it is ideal for sensitive skin. This is also why a lot of body jewellery is made from stainless steel. We choose stainless steel for contemporary classics such as sleek hoops, minimal bangles, and rings. Also our best-selling Letter Necklaces are made from stainless steel. All of our stainless steel items come with an especially long-lasting plating, which is guaranteed not to tarnish or fade (read more below).
Brass
For our more trendy costume jewellery items – such as the Bold Hoop Earrings – we choose brass as a base. Brass is a metal alloy made from zinc and copper, and therefore very affordable. Just like our more pricier ranges our brass items do not contain nickel which make them suitable for sensitive skin types.
Plating
The benefit of plated jewellery is its affordability, making it the perfect choice for jewellery lovers who frequently buy on-trend pieces. We choose three colour ways for our jewellery: gold, rose gold, and silver. I each case, a thin layer is bonded onto a base metal to give it longterm shininess and extra protection against scratches and daily usage. Our Stainless Steel Collection comes with a more durable plating, which is guaranteed not to tarnish or fade over time. The so-called Aqua Plating is a new method of surface finishing and produces a harder coating with a higher brightness than traditional plating methods.
Care Guide
User Instructions
We recommend removing jewellery before showering as contact with water can cause damage. Skin and hair products such as perfumes or sun-creams should be applied before putting jewellery on. Remove your jewellery before doing any practical activities or any type of work out. Avoid wearing your jewellery when using household cleaners or bleach, as some chemicals can react with metals.
Cleaning
Do not use chemicals to clean your jewellery as this may damage or discolour the metal. To maintain shine, it can be polished with a soft cloth and mild detergent or toothpaste can be used for stubborn dirt.
Storage
Store pieces separately in soft, padded compartments or pouches. This will prevent scratches, tarnishing and tangling of chains. Keep jewellery away from extreme temperatures, humidity and direct sunlight as these can all cause discolouration and increase tarnishing. Keep stainless steel separately from other jewellery as its hardness can cause damage to other precious metals.